This is our biggest ever All Japan Koi Show party. We have clients from all over the world here with us in Japan.
The show was, as always, excellent.
The now famous £1.3Million Sakai Kohaku was at the show, and as expected, she took the 2019 Grand Champion Award.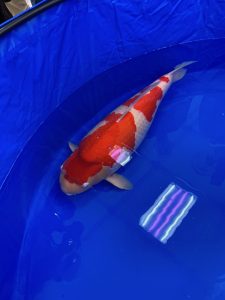 There were some amazing Koi there but she was the best Koi there, so good.
We are now in the Yamakoshi mountains and have already been around a few places today. The snow is nowhere near as bad as last year so much easier to drive in…3 trucks!!
We will post more in the coming week.
Enjoy a few pictures from the 50Th All Japan Koi Show, 2019.